So to start off my new tumblr, I decided to throw down a quick rant :)
Well my names Steven Bizarro, I'm 22, and what I like to call a fallen artist. At this point in my life I'm not sure what I should do or where I'm headed. But one thing I can guarantee about my future is, I dam sure will inspire beyond all thought when i get there.
That's my goal and a promise. 
I don't blog, so this is ridiculously new to me in many ways. So why the creation of a tumblr you ask? Well, I'm creating this blog for one purpose and one purpose only. >:| 
And that's hopefully to jump start my mental state through a dedicated art blog on study and creativity. This will be something of a daily exercise "wake-up call", to keep me focused in moving forward in my craft.
So to start off, with every coming day, I plan to throw down a quick or time consuming, big or small, a heavily detailed or simple, colored or not piece of art that pushes my knowledge, creativity and skill to create and reach levels I could have never dreamed of.   
First Piece of the Day
This is a concept art for a game making forum I'm a part of. It's a Rock type monster that carries a stone above his head to fend off enemies. This piece actually stressed me out more then it should have cause I couldn't get his right hand correct. Still not truly satisfied with the final outcome, but I've been teaching myself to avoid getting stuck on small things things for too long. I've noticed If you take too long to finish a piece, you most likely wont ever get around to completing it. Also, it was just a concept art -_- so straight out, stress'in way too much over something that's just used for reference is just plain ridiculous haha xP
Info
Title: Pebble Dude
Time: 1 hr & a half
Lesson: Blending and shadows
Note: Don't stress on concept art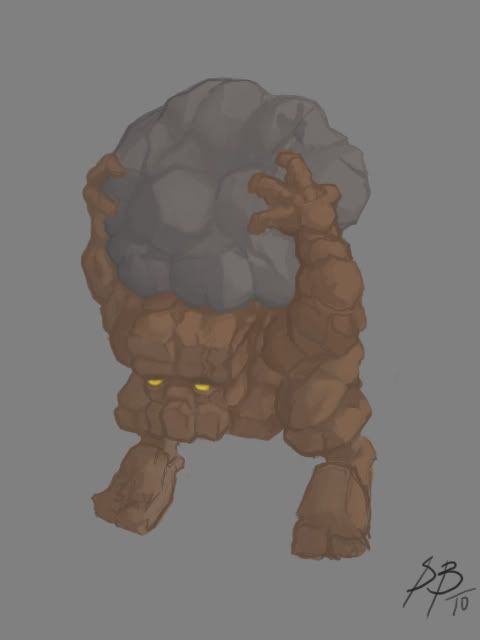 28.08.10